If you are looking for a breathtaking experience during your holiday in Poland, the Dunajec River rafting trip would be a perfect choice. This charming river runs through the Pieniny
Mountains and offers stunning views of the surrounding countryside. This article brings the
answers to the questions that are often asked before someone decides to take the trip.
Why is the Dunajec River rafting trip worth experiencing?
The Dunajec River is considered as one of the most beautiful river gorges in Europe. The
river cuts through the Pieniny Mountains, creating an amazing landscape of high cliffs and
lush greenery. The rafting trip down the river will take you through the narrow canyons and
old towering rock formations, allowing you to go more deeply into the natural beauty of this
unique scenery. The experience is truly incredible and always leaves an unforgettable
impression.
What to expect during the trip?
The rafting trip down the Dunajec River typically takes around 2-3 hours, depending on the
route. During this time, you will be surrounded by stunning views of the Pieniny Mountains,
lush forests, and crystal-clear water. The trip is suitable for all ages and skill levels so it is the
perfect activity for families, groups of friends or even for those traveling alone. You will also
have the opportunity to take photos and admire the unique flora and fauna of the region.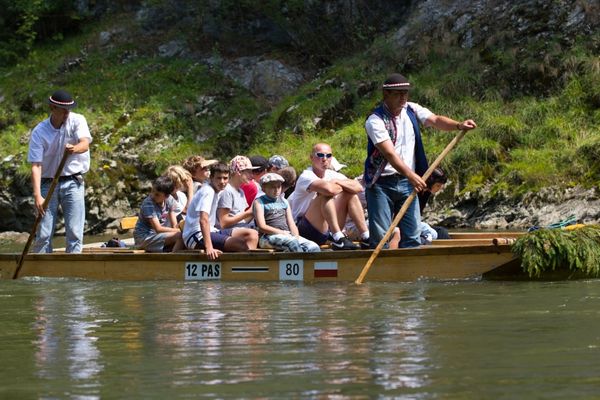 Take a guided tour – you won't regret it.
While it is possible to take the Dunajec River rafting trip without a guide, choosing
a knowledgeable and skilled guide could greatly enhance your experience. The guide not
only navigates during the whole trip but also provides a lot of interesting information about
the history and the geography of the region. What is more, guides also point out very
interesting landmarks and introduce you to the local culture which makes the trip both
informative and fun.
The Dunajec River rafting trip is a must-do activity for everyone!
Let's sum it up. The stunning landscape, unique flora and fauna and rich culture of the
region make an unforgettable travel experience. Moreover, if you choose a guided tour you
will learn a lot about the history and geography of the surrounding area.
Don't miss out on this great opportunity to experience one of the most beautiful river
gorges in Europe!